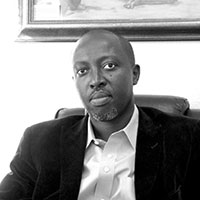 The Sojourners Christ's Church's special calling is to teach the Word of God, make disciples and promote unity among all believers in Jesus Christ. We are a place of oneness and diversity in Christ. With the Holy Spirit's help, we pray that our teaching on forgiveness and unity among all God's people will defeat and heal the hurts of division; racism; political, ethnic and religious injustice; and bad experiences. Our heart is to help people build a personal relationship with Christ. We believe in equipping God's people and have responded to Mark 16:15 where He said to them, "Go into all the world and preach the gospel to all creation." Joseph Nsabimbona, Lead Pastor
Joseph Nsabimbona is a formal Government Senior turned into a servant leader unto Christ. Joseph enjoys writing, speaking and teacher the Word of God. His passion for the Gospel of Christ and heart to serve has taken him throughout the USA, Haiti, Africa and Holland. He is a devoted husband to his wife Angeline and father of his two wonderful daughters Shemeza and Shima. He is the founder and Lead Pastor of "The Sojourners Christ's Church" and founder and President of A La Source, a Denver based organization serving refugees and the community. His Books include "Rescued" and "Love Redeemed"  and "The Holy Spirit Revealed".
Joseph has over 20 years of senior leadership from a diverse professional background and business experience. His diverse management experience includes government experience in his native home of Burundi, respectively Associate Pastor in a Denver Church (Church In The City/Beth-Abraham), Administrative Pastor in a local Aurora Church (Restoration Christian Fellowship) and he is the Founder of A La Source, a Refugee Ministry. Pastor Joseph is also a former United States Christian Chamber of Commerce President and has always enjoyed serving several local ministries leading outreach teams throughout the city of Denver and across the United States. Joseph has been in the mission field in Mississippi after hurricane Katrina, Haiti, Holland and Canada. Joseph is the Author of two books: "Rescued" (an autobiography) and "Love Redeemed", (an audio-book on healthy Christian Marriage). Joseph is married to Angeline and has two wonderful daughters Shemeza Mishita and Shima Sarah Nsabimbona.
Angeline has been ministering with her husband, Pastor Joseph, for the last ten years. In 2010, she co-founded A La Source, a ministry helping and ministering to refugees from all over the world. For almost 20 years, Angeline and her husband have lived the life of refugee as they fled their native Burundi, Africa. They are able to relate to the refugees and the internationals. Their calling is to minister to them due to their own experiences and to bring unity among God's people. It is only natural for Angeline and her husband to serve the Sojourners and the community.
From day one, TSCC has been about God drawing a team of people who are called together to use their gifts, talents, and abilities to serve the least of these.  TSCC Team is made up of people who themselves know what is to be hungry, be overlooked and broken.
At TSCC, we believe that we were designed to serve and the abilities God gave us are to be used for his glory.
We are praying for someone who is passionate about serving the little ones and particularly children from different cultures. This is an opportunity to serve and to teach the little ones and the adolescents about who they are in Jesus and the special place they have in our Savior's heart.
TSCC invests everything possible in our children as they are the future of the Church, the society and the country. We also mentor our kids via our partnership with Save Our Youth. We have actually 6 kids on our waiting list.
To get involved in the Children's Ministry, please, email us or Text(303)847-3247
Jesus said, "The harvest is plentiful, but the workers are few. Ask the Lord of the harvest, therefore, to send out workers into his harvest field." Luke 10:2 (NIV)
Office Administrator | This person will come alongside the pastor. He/She will help manage the office and Volunteering staff of TSCC, will join the effort to implement the mission, vision and values of The Sojourners Christ's Church.
Youth & Young-adults Coordinator | 50% of TSCC church is composed of at-risk Youth & Young-Adults. We are looking for A Young man or Young Lady with a big heart for these young-lives.
Community Liaison | Someone with a heart for Foreigners.
Audio-visual Technician
Many other ministry volunteering opportunities are available for you, your church & family. If interested, please, contact Joseph for more information.
Phone: (303)847-3247
Email: [email protected]